With just 2 weeks to go in the #CountdownToChristmas, I'm going to show you how to get those bedrooms and guest rooms ready for the festive period! From quick updates for the furniture, through to little changes to make your guests feel more at home…
Jazz up the headboard
If I was telling you how to quickly inject some character into your kitchen, I'd tell you to create a simple splashback behind your cooker or sink. Similarly, a great way to quickly refresh the look of your bedroom is to decorate the headboard. It's usually a fairly significant space that, when dressed up appropriately, will catch the eye as you step into the room!
Mosaics are the perfect way to bring a plain wooden headboard to life. They're cheap, they're easy to work with, and they come on a mesh backing so you can easily cut them to size! For best results, use a textured mosaic, or one with a bit of magical sparkle, such as an iridescent.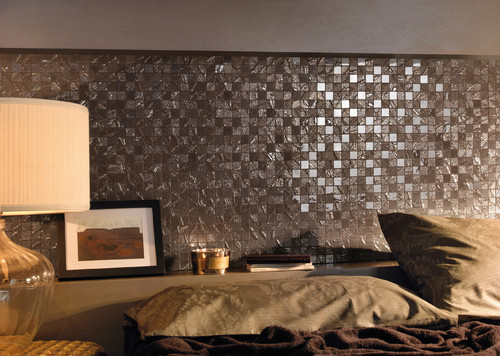 Create a feature wall
If you're bored of looking at a plain white wall, or faded floral wallpaper, then be a little bolder and create a room-stealing feature wall in your bedroom, ready for the New Year! The best feature wall I've ever seen in a bedroom was sent in by a Walls and Floors customer as part of a before and after competition. Evidentially, he won!
Graham used slate splitface tiles to create a stunning, textured display. If you're unfamiliar with splitface tiles, they're essentially strips of natural slate that are cut to different heights, widths and thicknesses; creating a varied, multi-levelled surface. He tiled the wall behind his bed from ceiling to floor; making a feature wall that immediately catches the eye and adds some cutting edge style to the room!
If you're especially chuffed with your tiling project, we're currently hosting another Before and After competition! It closes on December 20th, with the winner announced on December 25th. The prize for our favourite interior transformation? An iPad Air 2! Send your before and after pics to inspiration@wallsandfloors.co.uk.
Of course you can stay – Get those guest rooms ready!
If you're having friends or family over for Christmas, and the alcohol is flowing, it's not unlikely that your guests will ask if they can stay over. Mine certainly do! To save yourself the embarrassment of clearing all the clutter out of the room and changing the sheets last minute, get your guest rooms ready in plenty of time! I've put together some ideas for making your guest room more homely. Take a look: Get the guest room ready for Christmas.
Add a wood effect floor
Moving into 2016, all my research suggests that wooden floors will continue to be a major design trend. They help to staple the sought after natural trend into interior spaces. However, bare floorboards aren't necessarily the way to go. They require lots of treatment and maintenance – sanding and waxing. They can also splinter along the edges – and nobody wants a shard of wood in the foot as they're sleepily strolling to the loo in the wee hours of the night. With exposed floorboards, you're also very limited in design. It'll be one boring plank after another.
So what am I getting at? The fact that wood effect tiles are a much better way to go! Particularly if you live in a new build with MDF flooring upstairs – or your bedroom is on the ground floor with a concrete base. In these instances, you won't have any floorboards to expose! Wood effect tiles are extremely realistic. They're affordable, easy to install, require zero maintenance, and they're even compatible with underfloor heating – meaning you can create a cosy, snug touch underfoot.
Best of all, there are hundreds of different designs. Invite some interesting wood effect tiles into your bedrooms this season, and break away from the monotony of everyday floorboards.
Talk to us!
Here at Walls and Floors, we love to hear about your decorating projects! Send pics of your projects over to Facebook, Twitter, Pinterest and Instagram. We'll share and retweet our favourites!
Enjoying the blog? Let us know about it! What would you like us to write about next? Send your suggestions to the social channels above or comment below.
Got a technical or styling query? Want to know what type of adhesive to use? Want to know what sort of tile trim would look best with your project?
Send your query to Paul Collins, our Tile Doctor.
---
Enter our Giveaway to Win a £50 Tile Voucher
To help you unlock your dream home this season, we're giving away a £50 voucher to spend on tiles! To enter the giveaway, simply fill out the form below.

*By providing an email address above we'll add you to our mailing list to receive our newsletters which are full of interior design trends, fantastic giveaways and our latest unmissable offers. You can unsubscribe at any time.