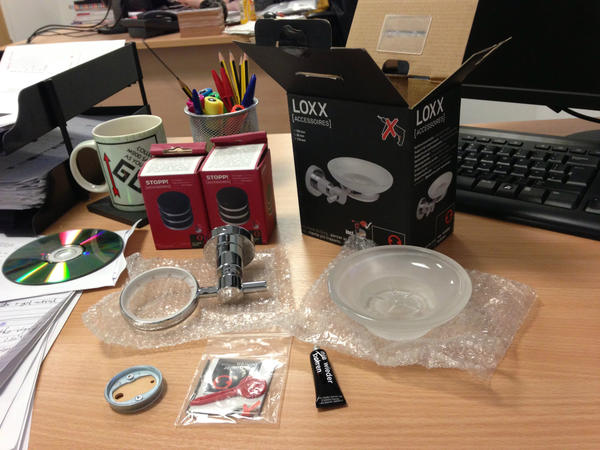 So you've just finished tiling your bathroom. It looks fantastic! You spent hours lovingly setting each tile in place, and you're really pleased with how it all turned out. But now you need to accessorise. Toilet roll holders, soap dishes, towel rods, robe hooks, shower caddies, the whole shebang; and you know what that means; drilling. Boring great big holes through those brand new tiles of yours. And drilling is never as simple as it sounds.
Firstly, you need to find the right drill piece; one that matches the width of the accessory screws (which may or may not have been included in the packaging). A drill piece that isn't chipped, worn, or bent. And if by some miracle you find the right piece, then comes the hard part; drilling through a tile. It's difficult enough to get the hole started – and when you finally do, then comes the agonising task of penetrating the tile; knowing at any second, it could crack; split in half, like a sheet of glass. And that would be awful. You'd have to take it out, scrape the surface clean, and hope you have a spare lying around – and enough adhesive left over.
But voila! You manage to drill your hole. No chips, no cracks. What next? Now you need a rawlplug. One that's the right size. You know you have one lying around somewhere. But where? The tool box? Nope. You rummage through the shed; through your drawers; through the closet. No rawlplugs. That calls for a trip down to the local DIY store; and the queue's out the door. And when you're faced with the rawlplug stack, you suddenly have no idea what size the screws are, and you forgot to bring one with you – so you end up having to buy them all. Every colour under the sun. Red, brown, yellow, black, blue and grey.
So then you finally get home, and you pull off the right rawlplug – and you hammer it in. Only it doesn't go all the way in. It sticks out half a centimetre, because you didn't drill the hole deep enough. So you take it out, and re-drill the hole, and this time the tile chips. Replace the tile? No need – the accessory trim will cover it. So at last, you fit your accessory. The toilet roll holder is finally on the wall. And you sit on the toilet, and reach out for it – but oh dear. It's too far away. You've mounted it too far from the toilet. So you have to take it off again, and repeat the entire process; only now you have a big hole through the tile, and it's all chipped around the edges. Your shiny new bathroom is ruined.
It's safe to say that drilling tiles is a nightmare. But now, the days of drilling tiles are over, thanks to Never Drill Again bathroom accessories. These cutting-edge accessories attach securely to tiled walls without the need for drilling, screws or rawlplugs. Best of all, should you ever want to remove the fitting, you simply pull it off with a pair of grips, and scrape off the residue; leaving your tiles unharmed.
So what does the Never Drill Again variety have to offer? Well, it consists of three ranges:
The Loxx range provides a host of stylish and contemporary soap dishes, towel rods, robe hooks, glass shelves and toilet roll holders. In addition, the Coorb collection offers single and double-levelled shower caddies, and grab handles for added bath time safety! Whereas the Stopp selection consists of brushed stainless steel and chrome-plated door stops.
You know what the alternative is…
---
Download our free 10 Summer Style Steals lookbook…
It's full of stylish decorating ideas to use throughout your home, all year round! Fill out the form below* and we'll give you the download link instantly.
*By providing an email address above we'll add you to our mailing list to receive our newsletters which are full of interior design trends, fantastic giveaways and our latest unmissable offers. You can unsubscribe at any time.
---